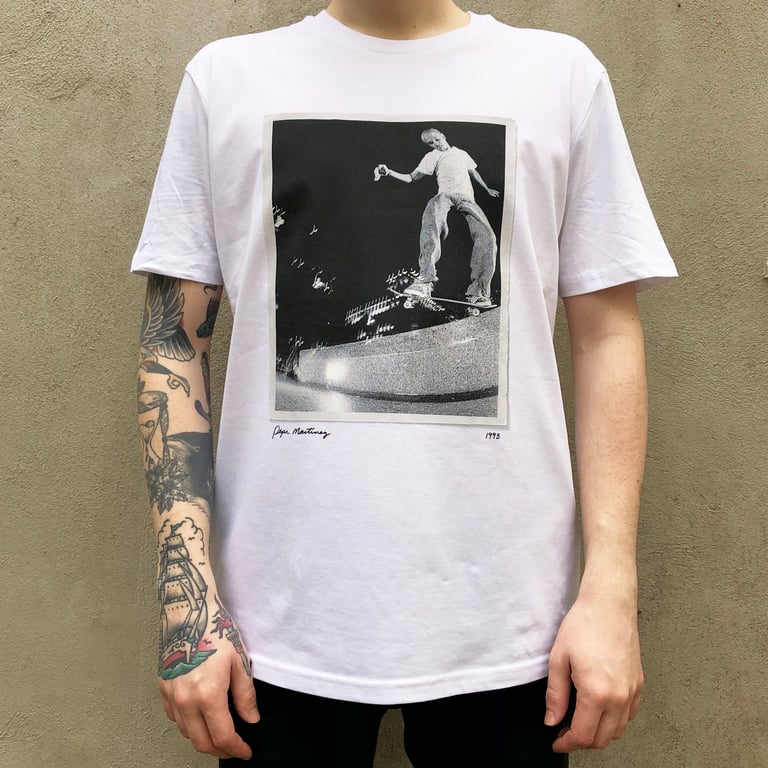 Pepe Tribute Tee Limited Edition T-shirt
Following the release of '93 til, the photo book by photographer Pete Thompson & StudioTrouble™, we teamed up with radioskateboards to pay tribute to East Coast legend Pepe Martinez.
Pepe, who passed in 2003, was a pivotal skateboarder in the early 90s who helped fuel the Washington DC and East Coast skate scene. With a deep bag of tricks and a unique style, Pep was a quiet, humble personality with a good sense of humor.
The image, which also appears in our book '93 til, was shot by Pete Thompson in 1993 at Pulaski Plaza in Washington, DC.
This shirt is our tribute to Pep's legacy and influence on skateboarding.
Limited to 93 pcs. with a 4-color screen print.
Pepe Tribute-tee, white
100% organic cotton
Sizes: S-XXL (see size chart below)
radioskateboards Berlin – https://shop.radioskateboards.com/